BIG NEWS! The new PBS music series--"MUSIC GONE PUBLIC"--is on the air nationwide!!
June 11 was the official launch date, with premieres on PBSstations in Los Angeles and New York, but now PBS affiliates all over the country are beginning to air the new series. Our concert is EPISODE 6, so start looking for us on your local PBS station very soon!
The new "Music Gone Public" website--www.musicgonepublic.com--has a SCHEDULE page that will give you a state-by-state breakdown of when the various PBS affiliates plan to program the series (the day of the week and the time of day) and the starting date of the series. That will let you know when you can see TOM RIGNEY AND FLAMBEAU on PBS. Our concert should be five weeks from the starting date.
Please try to tune in and catch our debut on Public Television! We're coming to your neighborhood soon!
www.musicgonepublic.com

THE NEW DVD VIDEO IS OUT!! WHOOPEE!! AND THE NEW LIVE CD, TOO!
At long last, the new Tom Rigney and Flambeau DVD video and CD are out! These fabulous new live discs are both titled "SWAMP FEVER--LIVE AT THREE STAGES" and were recorded and filmed last summer at the beautiful Three Stages, Harris Center for the Arts, in Folsom, CA. It was a rockin' great night of music and mayhem and the new discs have captured it beautifully. The band was cookin', the band was lookin' good, and special guest Willard Blackwell was tearin' it up on the rub board! We will have both of these new releases at all of our summer shows or you can order them by mail through this website. Just click on the covers below and you'll be on your way to a serious case of "SWAMP FEVER"!


JANUARY 20, 2014: BIG NEWS! A NEW MEDITERRANEAN CRUISE, AUGUST 16-28, 2014!!
Our first big announcement of the new year is that we have just booked a fabulous Mediterranean cruise for summer, 2014!
The cruise will begin and end in VENICE, ITALY !! Along the way we will stop in many fabulous ports, including Istanbul, Santorini,
Athens, Ephesus, and Katakolon! This is going to be an incredible floating adventure, and joining us onboard will be the great Peter Meijers Quartet, with guest vocalist Nina Ferro. They were along on our last Mediterranean cruise and are a fabulous bunch of musicians.
This cruise is presented by JAZZDAGEN TOURS. You can contact them via their website to get information about bookings, cabins, schedule, etc. Our last Mediterranean cruise was one of the greatest trips any of us have ever taken, and this next one should be really a blast. You should give some serious thought to taking your vacation with Flambeau this summer aboard the beautiful MS Nieuw Amsterdam!
Bookings and information: www.jazzdagen.com
JUNE 1, 2013: We have had an action-packed Spring, highlighted by our return to the Spring Blues Festival in Ecaussinnes, Belgium! The festival was fantastic, with Flambeau headlining this time around! Great bands, including Smokin' Joe Kubek and B'nois King, Preston Shannon (from Memphis), and Reynaud Patigny and Zanzibar, a beautiful stage with great sound and lights, and an enthusiastic, energetic crowd. In short, WE ROCKED THE JOINT! We had the whole place jumpin' and singing along to "C'est la Vie"!
The whole thing was filmed for Belgian National Television and, according to the promoter, the show could utimately be seen by a few million people. Here are a few beautiful photos of Flambeau's set, taken by Michel Verlinden for Rootstime Magazine--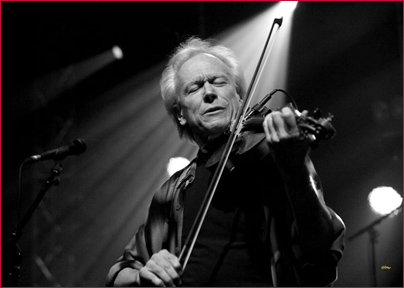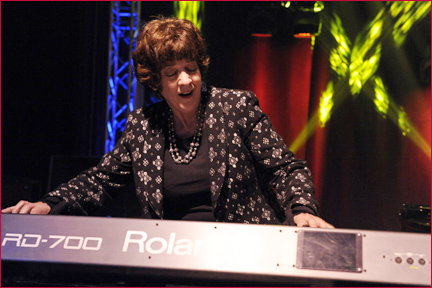 Next stop on the eternal tour was the 2013 SACRAMENTO MUSIC FESTIVAL, the 40th annual celebration in downtown Sacramento. We played ten scorching sets over the four days of Memorial Day Weekend to standing room only crowds at four different venues. The musical line-up was fabulous this year, with appearances by Los Lobos, The Blasters, James Hunter, and Dan Hicks, in addition to lots of Traditional Jazz and blues. Early reports say that attendance was up significantly this year and that is great news. This is one of our favorite annual events and it's good to see it thriving. In addition, former Emperor Tom Rigney was invited to ride once again in the parade through Old Sacramento and hundreds of his loyal former subjects lined the streets and praised him as he rode by...
And if that's not enough for you, Tom has just release a beautiful new CD, "SHADOWS ON THE MOON--Airs, Ballads, and Waltzes".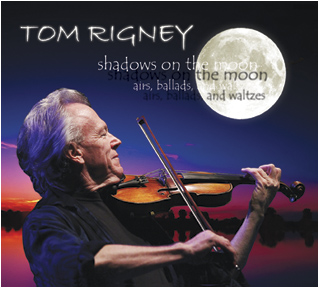 This gorgeous new acoustic disc features original instrumental pieces with the violin showcased in a singing role. The music is alternately romantic, sweeping, elegiac, and passionate--beautiful melodies played on violin, acoustic guitar, mandolin, accordion, and more. In addition to the members of Flambeau, all of whom make an appearance on the disc, there are several great acoustic instrumentalists--Nina Gerber on guitar, Mike Marshall on mandolin--all of whom contribute imaginative, soulful parts to the arrangements. Ten of the pieces are original compositions by Tom Rigney, and the remaining two are a plaintive Scottish air, "Archibald McDonald", and Kate Wolf's hauntingly beautiful "Brother Warrior".
This new CD is a lovely and passionate addition to the Rigney discography, and is available at all our shows and by mail through the website.
For more information, click on the album cover--

FEBRUARY 20, 2013: "BACK STREETS" HITS NUMBER 1 ON XM/SIRIUS RADIO'S BLUESVILLE CHART!!
The new blues compilation CD, "Back Streets", has climbed all the way to Number 1 on the Bluesville chart, having reached the top of the chart on February 18! This great new disc has been getting a lot of spins from blues programmers across the country, and has been charted nationally for the past couple of months, but the most exciting run has been on XM/Sirius Satellite Radio's Bluesville channel. This is the third Tom Rigney blues CD in a row that has climbed to the top of the Bluesville Chart!!
Here is what Bill Wax, the esteemed Program Director of the Bluesville Channel on XM/Sirius Radio had to say:
" I have been doing this channel for all 11 years of its existence and your music seems to create more response than any other artist we have played over all those years. It is great to see the audience get that excited over an artist's music. You have made us sound great and all we have had to do is spin some sides from your disc. You are all top notch players and it is a pleasure to let others hear your music."
OCTOBER 16, 2012: What a great summer it has been for Flambeau! The new CD, "You're the One", was officially released on August 1st and is starting to climb the Americana Rado charts. This new disc is filled with irresistible grooves, catchy new songs and instrumental pieces, and that inimitable Flambeau sound and spirit.
As the Midwest Record put it--
"Rigney is one of those cats that has the ability to make each new record better than the last. Working outside the mainstream, he's free to stretch the boundaries of Americana, whatever that is and that means. A happy, upbeat party time record that keeps the party going, Rigney and his crew kick it off with some zydeco and know the real meaning of 'le bon ton roulet'. Exciting roots music that brings the genre more fire than it's used to. A winner throughout."

HERE IT IS...CHECK IT OUT--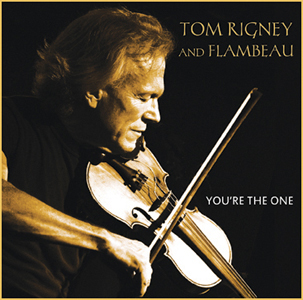 FLAMBEAU AND BEAUSOLEIL--Major highlights of the summer were the two shows we played with the great Michael Doucet and Beausoleil--a fabulous backyard barbecue at Rancho Nicasio and a sold-out show at the beautiful new Three Stages Performing Arts Center in Folsom! And the highlight of those two evenings was fiddler Michael Doucet joining Tom and Flambeau onstage for several scorchingly hot numbers that brought the house down and the audience to its feet! Something tells me this won't be the last time the world gets to see and hear this great combination..
AND THEN THERE WAS THE CRUISE...Our eleven day Mediterranean cruise was one of the great tours! The music was wonderful--Flambeau, plus Cornet Chop Suey and the Peter Meijers Quartet, with vocalist Nina Ferro--the weather was warm and beautiful, and the ports of call--including Barcelona, Naples, Corfu, Katakolon, and Dubrovnik--were exotic and amazing. Our thanks to all the fans who joined us on this memorable voyage! Let's do it again sometime!!
FEBRUARY 6, 2012: "Don't Fight It" hits #1 on the XM/Sirius Satellite Radio Bluesville Chart!!!
After a thrilling ride up the "B.B. King's Top Picks to Click" chart over the past few weeks, the new Flambeau CD, Don't Fight It, hit Number One this week! And there was great rejoicing throughout the land! Drop a note to the folks at Bluesville and let them know you'd like to hear more spins of this great CD.
JANUARY 22, 2012
Don't Fight It is climbing the blues and roots radio charts!! The new Flambeau CD, "Don't Fight It", hit #7 today on the XM/Sirius Satellite Radio's Bluesville Chart! It has also climbed to #32 on the Roots Music Report's National Blues Chart, and is at #19 on the California Roots (Blues and Americana) Music Radio Chart! Tune into your favorite blues or roots music station and request more spins for this great new CD.

SEPTEMBER 20, 2011
2011 is blasting along for Tom Rigney and Flambeau--more shows, more festivals, more rockin' good times than ever!!

The new Flambeau blues CD, "Don't Fight It", was just released on the Parhelion Records label on September 1, 2011, and will be hitting the airwaves all over the world very soon. This new disc is an exciting new chapter in the Flambeau saga--a great collection of blues, R and B, Swamp Blues, Boogie Woogie, and Soul, with several new Tom Rigney instrumental pieces thrown into the mix. The new disc is a fine showcase for the whole band and features high-intensity contributions by all the members of Flambeau. You can cllck on the cover photo to hear some music samples from this fabulous new album.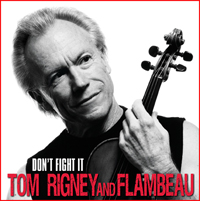 FESTIVALS FESTIVALS FESTIVALS!! 2011 has seen Flambeau tearing it up at more festivals than ever. Among the highlights in recent months were appearances at the Blues By The Bay Festival, in Eureka--two days of blues, R and B, Gospel, and Flambeau, with performances by Tower of Power, Tommy Castro, Joe Louis Walker, and many others.

Flambeau also played two smokin' sets at the Chico World Music Festival, in Chico. The first show was a concert in the beautiful Laxson Auditorium to a rapt and enthusiastic audience; the second show was the festival's closing set on the outdoor Sycamore Stage, with a couple thousand fans dancing their asses off to the rockin'est set of the weekend.

The band also appeared at many Jazz Festivals this Spring and Summer, among them the Three Rivers Jazz Festival, the Olympia Jazz Festival, the Mammoth Lakes Jazz Jubilee, the Pentastic Jazz Festival in British Columbia and perhaps most notably, the great Sacramento Jazz Festival. This year our fearless leader, Tom Rigney, was crowned EMPEROR of the 2011 SACRAMENTO JAZZ FESTIVAL, and his reign was a time of great joy throughout the Empire! He rode at the head of the Mardi Gras Parade in a beautiful Peacock blue 1956 T-Bird converitble and heaped blessings on his assembled subjects.
Throughout the Memorial Day Weekend in Sacramento, Flambeau drew record-breaking crowds at nearly all their venues as legions of His Majesty's loyal subjects danced and partied and made mostly futile attempts to touch the hem of his various garments. One of his loyal subjects did get just a little carried away in his desire to show his love for the Emperor (see photo below) and had to be forcibly restrained by Security Forces. He is now resting comfortably in jail.
Among the highlights of the weekend were capacity crowds at both Freeway Gardens and Firehouse Lot , and thunderous standing ovations for Flambeau's performances everywhere.
2010's Emperor Bob Draga played a memorably intense and musically exciting set with Flambeau, appearing onstage in a jacket rejected by Porter Wagoner as "just too damn much!" and a hat borrowed from a 1930's movie featuring Betty Grable. His outfit, happily, did not impede his brilliant clarinet playing, and the musical interaction between the two Emperors was truly music-making on the highest level. A splendid time was had by all!
Read the article about Tom in the Sacramento Bee, May 27, 2011 HERE.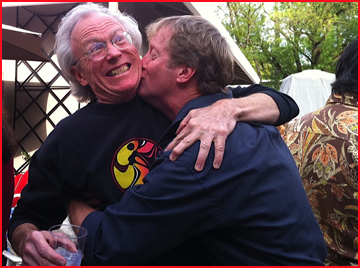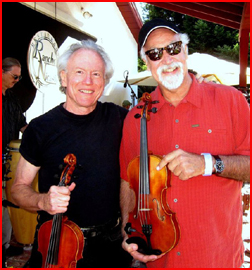 Another highlight of the summer was a backyard BBQ at Rancho Nicasio--a co-bill with Michael Doucet and Beausoleil. A big crowd gathered on a beautiful afternoon to eat, drink, dance, and listen to two of the hottest fiddle players in their price range! It was a fine day and the music was glorious!



I
In all, 2011 is shaping up as a great year for the band, with countless concerts, festivals, and dances in venues and communities all over the U.S. and Canada, from Orange County, CA, to Penticton, BC, from Decatur to Sheep Ranch to Rancho Nicasio to Palmer, Alaska. I think it is safe to say that Tom Rigney and Flambeau's plan for world domination is proceeding apace! You don't want to be left out of this party!!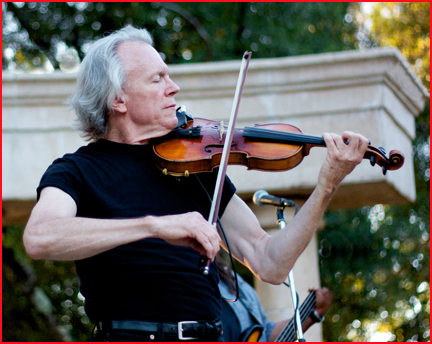 Photo by Jennifer Zaucha